Modern and durable pool covers
Pool covers available in our offer are smart solutions ensuring comfortable, safe and economical use of the pool. We invite both owners of household pools and those in hotels, SPA facilities and more to take advantage of our offer. We provide them with modern solutions with various parameters.
Slats
made of single, joined together PVC profiles with dimensions of 70×16 mm,
ended with plugs in various colours,
protected against the effects of UV rays and swimming pool chemicals,
have great insulating and thermal properties,
are available in a wide range of the curtain colours: gray, blue, black, sandy, white, as well as transparent and solar.
Surface rollers
driven by the IP55 tubular motor,
equipped with a 120 Nm, 250 Nm or 500 Nm motor,
installed on the shore in a special tube,
powder coated shaft and stands – a wide range of RAL colours,

wirelessly controlled.

control 230V/24V IP66
electronic limit switches
remote control
1 Channel / 868MHz

*Can be replaced with a 6-channel remote control for additional devices (e.g. Pool and garden lighting).
Underwater rollers
driven by the IP68 tubular motor,
equipped with a 120 Nm, 250 Nm, 500 Nm or 900 Nm motor,
installed in a special tube located: on the bottom of the pool (separated by a partition), in a pool niche, in a niche behind the pool, just below the water surface or in a side partition separated from the water surface by a partition,
powder coated fastening in accordance with the RAL palette.
Types of underwater roller installation
Underwater roller installed on the bottom of the pool
Underwater roller separated from the main part of the pool by a suitable partition
Underwater roller, the shaft is hidden in a specially built pool niche, covered with a stainless steel sheet
Underwater roller installed in a pool niche
Roller installed just below the water surface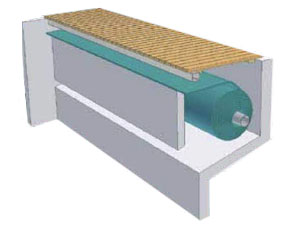 Pool cover with the shaft hidden on the side, at the top of the pool, separated from the water surface by a partition
Discover the advantages of our offer
Based on many years of experience in the swimming pool technology:
we manufacture pool covers made of high-quality PVC,
we make covers for indoor and outdoor pools, both existing and under construction,
we offer mobile foam covers and slat covers, installed to the beach of the swimming pool or under water,
we enable fully automatic operation of covers with a remote control,
we carry out orders adjusted to the size of the pool and the location of the shaft,
we ensure a short lead time of individual orders – we deliver and install the cover within 4 weeks,
we serve customers in Poland and selected European countries.
Before the order is processed, we charge an advance of 60%.
Contact us to discuss the details of the project.